The giant guard dog, the Bullmastiff, was originated from the breeding of the Old English Bulldog (extinct) and English Mastiff. In 1924, a club named English Kennel Club recognized this pure breed of dogs.
According to the English  Kennel Club, there are some standards for Bullmastiff dogs that need to be fulfilled. Exceeding from these characters is highly discouraged by the breeders.
 

What Kind of Dog is a Bullmastiff?
Pets are a special part of almost every family. People love to explore new and new pets. The interest keeps on increasing when new and amazing facts are revealed about pets.
If you are looking for a breed that guards you and your family against enemies, then which breed can be better than the Bullmastiff. It is a muscular, majestic, and massive type of dog which is one of the best dogs for war purposes and fighting.
This powerful breed is considered one of the oldest dog breeds. Its unique personality makes it a desirable breed in millions of hearts throughout the globe.
Let us explore the answer to the question of what kind of dog is a Bullmastiff from the features, traits, and habits of this pet. These are well known for their courageous, powerful, and alert behavior.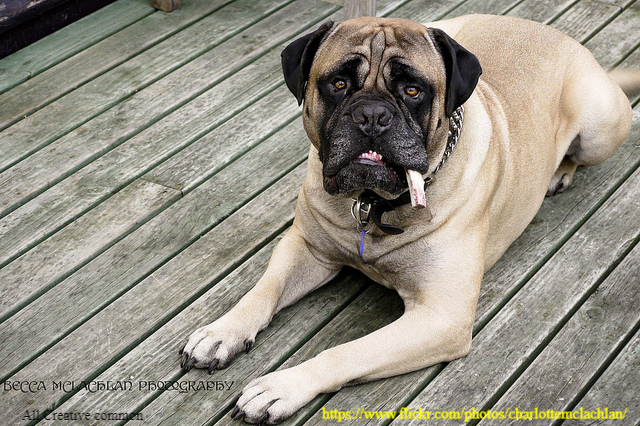 Their love, care, and devotion are ideal. They are full fun to be around. Their playful nature and activeness make it a wonderful pet for the kids. Kids love to spend and enjoy quality time with Bullmastiff.
Owners should train them as per their desire. Training should be started in the early days of their life so that they show quick and better responses. Socializing makes them enjoy the company of others and they learn the tactics to deal with others in the best possible way.
Not all dog owners are blessed enough to proudly introduce their pets to the people. Proper training ensures the good behavior of a dog. These are a bit reserved and highly protective in nature.
Not only the Bullmastiff dog but also the puppy is concerned about the protection of its owner. The muscular body and giant appearance are the main elements that are being considered by a number of people while making a selection of the pet.
 

What Is The Largest Mastiff Breed Of Dog?
Tibetan mastiff, Bullmastiff, and Neapolitan mastiff are different breeds of the mastiff. All of these exhibit their peculiar characteristics. Let's figure out that which is the largest mastiff breed of dog.
The breed which is massive and giant in terms of appearance is regarded as the largest mastiff breed of dog. These obedient and guardian dogs are huge-sized dogs. According to the (AKC) American Kennel Club, a male Bullmastiff dog should be 25 to 27 inches in height.
Likewise, a female Bullmastiff dog should exhibit a size of 24 to 26 inches. Their diet plays a keep role in their proper growth and nourishment. Owners should be aware of the diet which fulfills the daily recommended allowance of a Bullmastiff dog.
Bullmastiff dogs would leave no stone unturned to amaze their owners. These massive canine dogs are relatively quiet than other guardian pets.
Their athletic and powerful bodies have a weight of 100 pounds to 130 pounds. Their good nature and dwell mannered behavior make them an ideal pet.
 

What Are Bullmastiff Dogs Bred For?
Bullmastiff dogs are the type of dogs that are specifically bred for a particular purpose. These faithful and honest dogs are much familiar with loyalty. Besides this, they know how to fight with an enemy.
This ability of the Bullmastiff dog is the basic reason for its breeding. It was first originated in Britain, where it showed its warrior nature. This is one of the oldest known dogs of humans and was developed in the mid-1800s.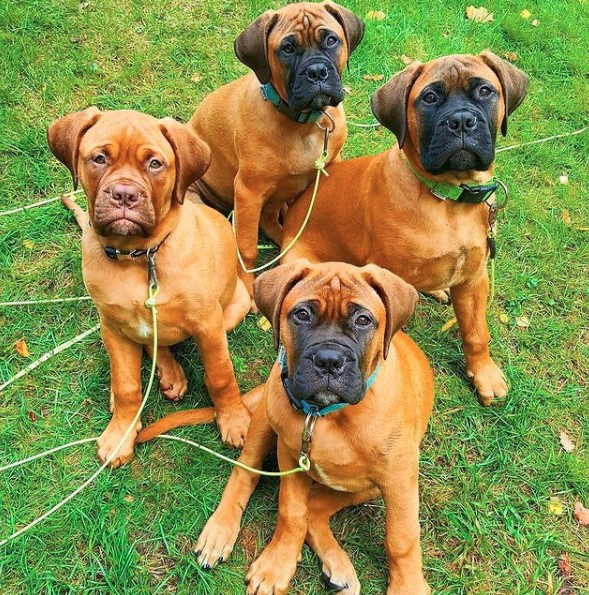 These are ideal for protection and safety purposes. IT is the reason that these are the best picking choice for a number of people throughout the world.
People feel secure with a dog that can protect them from intruders. Family safety and personal safety now become one of the most common reasons for breeding the Bullmastiff dog. They can harm the attacker or enemy badly.
Their bite has the potential to impart dangerous wonders to the enemy and can even prove to be fatal. In a nutshell, the answer to the query that what are Bullmastiff dogs bred for lies in the guardian nature of this pet. 
All Mastiff Dog Breed Types:
All mastiff dog breed types are adorable and wonderful in appearance. The most common Bullmastiff dog breed types which can be easily seen in the market are fawn Bullmastiff dog, red Bullmastiff dog, and brindle Bullmastiff dog.
According to the AKC standard, only these 3 types are the acceptable colored types for a Bullmastiff dog. All of these have their peculiar appearance which makes them distinguished from others.
Owners who are not aware of these breed types should visit the market or explore the net in order to select the Bullmastiff from this huge variety.
The more adorable a dog would be, the more loveable it would become, instantly. Brindled Bullmastiff dog is the kind of dog that contains their coat to be stripped of the red or fawn color.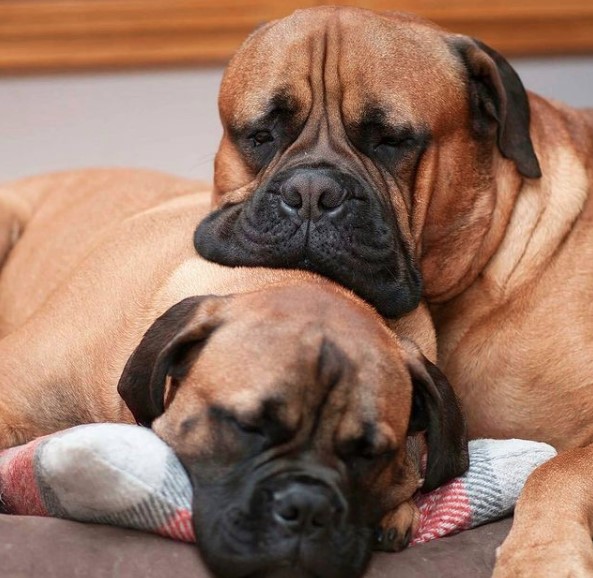 These overlay strips form the brilliant brindle color of the Bullmastiff dog's coat. The Red Bullmastiff dog exhibits a great variety of shades. These can range from the dull red color to the bright and shiny red.
Likewise, a Fawn-colored Bullmastiff contains a coat that is most likely similar to brown in color. Just like the red Bullmastiff pet, the fawn Bullmastiff depicts a variety of shades in brown.
It can be a reddish-brown-colored dog, light brown pet, or in between these shades. All of these types find one thing in common.
None of the breed types of Bullmastiff dogs contain white marking on their coat with an exception of the chest area. There can be a little white marking on the chest of the dog.
 you might be interested to read about: Bullmastiff dog breed information